Audi Limo Perth - 12 seater & 14 seater
This Audi Limousine from My Limo Perth is a beautifully designed european luxury limousine. The Audi Limo features, extra long length, flowing smooth lines and distinguishable Audi grille. A blend of luxury, classic styling and modern design the Audi Limousine is ideal for wedding car services, school ball transport and all party limousine services. Featuring a centre Jet Door to easily access this amazing stretch limousine. The limousine designer has created this Audi Q7 limousine for the ultimate user experience for the guests. High end seating desgin, 4 seperate bars, retractable seatbelts, amazing LED lighting, inbuilt wedding bouquet holders, music, bluetooth, sound volume controls in the party section to allow the guests to have all the control. The 14 seater Audi limo from My Limo Perth is like no other and cannot be compared to any other limousine for style, design and value. Choose... the best or nothing.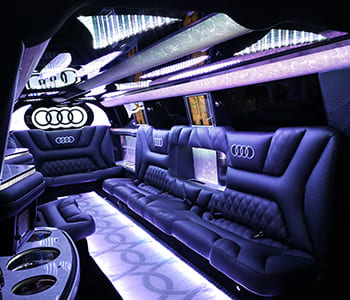 Audi Limo Perth Features
12 Seater and 14 Seater Design
Sleek White and Chrome Finish
Iconic Audi Design
Central Jet Door / Bridal Door
Boot Space for Guests Luggage
Latest LED Lighting and interior
Amazing Bluetooth Sound System
Inbuilt Bar into seating design
4 Seperate Bar Areas
Set with 24 champagne glasses
School Ball Limo service
Wine Tour Limo service
Wedding Limousine service
Audi Limo - Designed For Passenger Comfort
The stretch Audi limousine has been crafted from the luxury Audi Q7 SUV originally created by the german manufacturer of Audi. The bold exterior of the Q7 exudes a confident presence only possible from a luxury and sophisticated stretch limousine. The Audi limos pleasing appearance is emphasised by clearly defined surfaces and taut lines which are imposing and inspiring. The intelligent design of the Audi offers class leading safety technology and quattro all wheel drive which results in exceptional levels of comfort for the passengers in the stretch limousine. The intelligent design with the central Jet Door as well as two other rear door entrance options provides brides and limousine parties with easy access inside and upon disembarking from the limo. The personal touches from My Limo Hire Perth for limo hire guests accentuate the style for the experience. These personal limousine service touches include a 3 metre red carpet upon our arrival, decoration on the bonnet for wedding ribbons, complimentary refreshments, drinks, ice and champagne glassware with every service and an amazing easy to use personal sound system.
Want a Deal?
An awesome Limo Deal? We will beat any price equal to our limo models. Tell us the date, times, and suburb for your limousine service. 0415 419 212
Send us your price match quote